Only in recent years I have become a fan of dried flowers.
In the past, I always brumped the nose over her because she reminded me of cheesy, outdated flower books from the late 1980s.

Now I can not believe that I needed so long to discover your advantages. The drying of flowers meansthat you can preserve the fullness of the garden to enjoy them later, if nothing blooms. At that time, when we finished the winter chapter of a year in flowers, I realized how useful and versatile Dried flowers really are.


If you apply the right method, you can dry pretty much everything, and there are dozens of books on this topic that stand in the shelves of antiquarians and used goods. A few years ago, I discovered an outdated, but incredibly helpful book, Flowers: Growing-Drying Preservation "by Alan Cormack and David Carter, which is very detailed on the different varieties that can be dried, and step-by-stepping Instructions give how to do that, no matter if you are drying in the air or used silica gel.

There are so many possibilities, dried flowers, Use seed capsules and grasses: in late autumn arrangements, to decorate fresh Advent wreaths or Even mixed with fresh flowers. I thought it would be helpful to introduce some of the varieties that the easiest to breed and on Popular to dry.
Straw flowers (pictured above) are a traditional tread burner, but the magnificent new colors and varieties make them very different as the Flowers of the 80sand you see in Combination with fresh flowers Really unbelievable.

Start 6 weeks before the last frost with sowing in bowls in the house. The seed needs light to germinate, so do not cover. Water the seeds until they go up and plant them as soon as there is no danger of frost. Be able to dry They perform them at the desired stage of openness, then stick to this stage.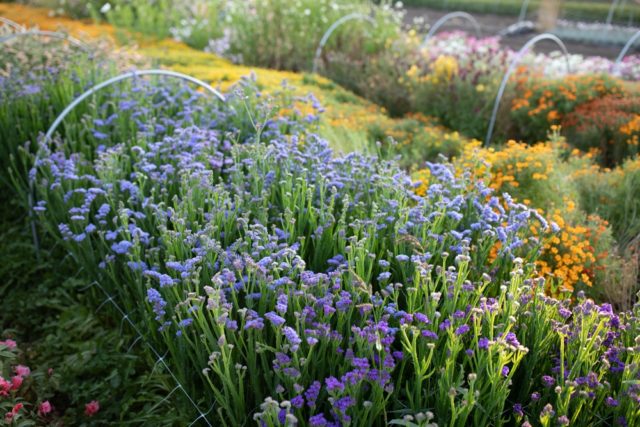 StaticeAnother continuous burner, is one of the Best flowers for drying and is also suitable Wonderful as a fresh flower. The paper-like flowers of this versatile plant are easy to grow and are ideal for beginners. They bloom all summer.

Start the seeds in the house 6 weeks before the last frost; Plant it if there is no danger of frost. Harvest if everyone blossoms be appeared on a stem. Is harvested too early, soil the stems. Fresh flowers are stable 7 to 10 days in the vase.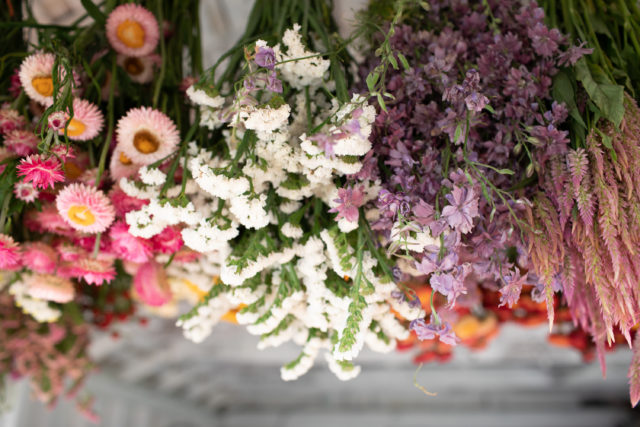 delphinium (Second of right, top) is one of the easiest Cut flowerswhich one can grow - he is cold tolerant, blooms early and enriches the spring garden with high, colorful ears.

Sew out directly in late autumn or in early spring, or sow 6 to 8 weeks before the last frost in the house in Peel off and plants They plants As long as it is still cool. The plants thrive best when they are sown directly in the garden. Knight's spur can be planted in the autumn itself in the coldest areas of the world. Accelerate germination by cooling the seeds in front of sowing a week in the cooling or freezer.

To dry all flowers Open up to the top three or four, then pick and hang upside down in a warm, dry, dark place for 2 weeks.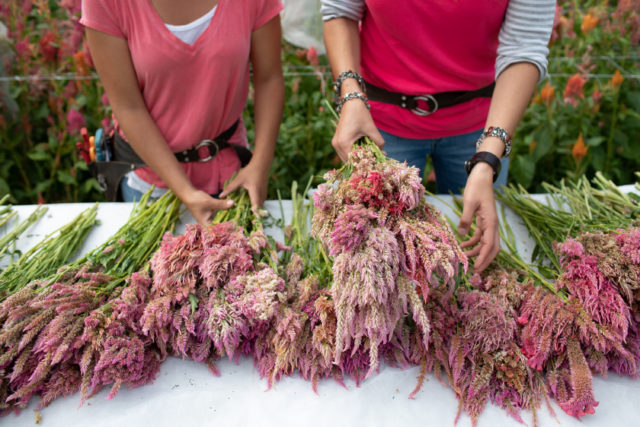 unique because of their flower structure bred Kelosien are vigorous and free flowering. This easily cultured flowers are available in a variety of shapes, colors and forms to prickly Hahnenkamm up, feathery shapes that are perfect for bouquets.

the flower heads grow over time, so you should pick them when they have reached the desired size, but before they wither. Celosias talk as fresh flowers often 2 weeks. To the hang drying They freshly cut stalks feel upside down firmly on a warm, dark place for 2 to 3 weeks or until.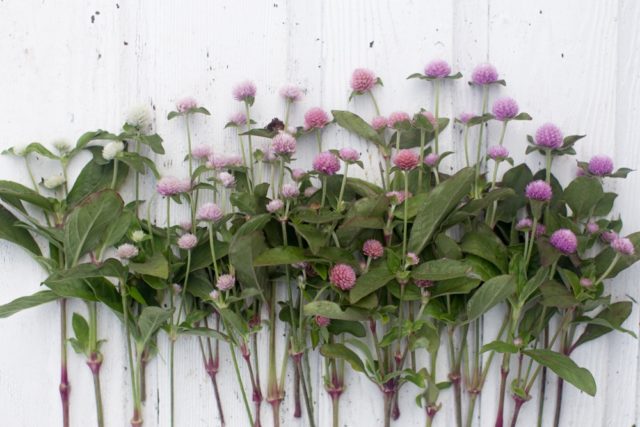 Globe Amaranth has charming, button-like flowers, which in Bouquets to look good. This late summer favorite also thrives in the heat and is both garden and in the vase diligently.

Start You sowing 4 to 6 weeks before the last frost in the house in bowls; Plant them out as soon as no risk of frost. Freshly harvested flower lasts up to Two weeks in the vase, and dried blossoms look almost exactly like fresh.
eucalyptus is a staple, which in the Floristry and at weddings is in high demand. His blue-green and silvery hues match both cool and warm to flowers palletsAnd everyone loves its distinctive Metholduft. Our favorite is 'Round-leaved Mallee', as shown above.

eucalyptus may as annuals Plant from seed be drawn if one starts early with it. Sow the seeds on the soil surface and not cover them. The seeds germinate very slowly and need 45 days to germinate, so be patient. Harvest when the foliage is mature and the sharpen not hang more.

cut fresh Eucalyptus leaves a long-lasting - often two weeks in the vase. as dried foliage He is a popular part of Fall wreaths.
I have the cress, A fantastic filler discovered nearly a decade ago and have since become a fan. Even a few stems of this seed in treasures turning any ostrich. The high, robust plants are with beautiful silvery seedpods covers that do not wither or broken.

the cress germinate very quickly and brings a rich harvest produced in just two months. We sow every 2 to 3 weeks after the last spring frost to early summer right out to ensure a consistent supply.

To harvest Them when the seedpods fully formed and the top blossoms are withered, so that they do 7 to 10 days vase keep. If you sow in succession, you have enough to dry for autumn bouquets and Wreath. The stems can be slightly dry; hang them upside down simply on a warm, dry Place.
Lagurus is an irresistible ornamental grassThat is as soft as a well-worn baby blanket. the compact Plants bring gray-green stalks with elongated heads out who accept a delicate off-white color and with age become softer.

The crop can be harvested at any time once the seed heads rise. If you cut them fresh, they keep 7 days vase, Without the need to preserve them.

Wait to dry, fall to the pollen, pick and upside down Hang on a warm, dark place. Anyone who visits our farm, loves this grassBeing! It can mix well with everything and looks dried fantastic the end.
poppy pods are long been a favorite mixed boom. He is easy to grow and is a wonderful one Enhancement for every garden.

The moon produces big, Decorative seed capsules, dried and unlimited can be used. The pods of 'Rattle Poppy' are as big as LimeBeing! The gossip thrives best when it is sown directly, but the snails love him, so you should be careful.
Shirley Poppies (pictured above) provide a rich harvest on silver miniature pods with darker tips that are Excellent for handicrafts, bridal bouquets and dry works are suitable.

Seat him directly into the garden after all frost danger is over. Shirley poppy can also be planted in the house; Pay attention Plant Only on the fact that the roots are not too disturbed too much.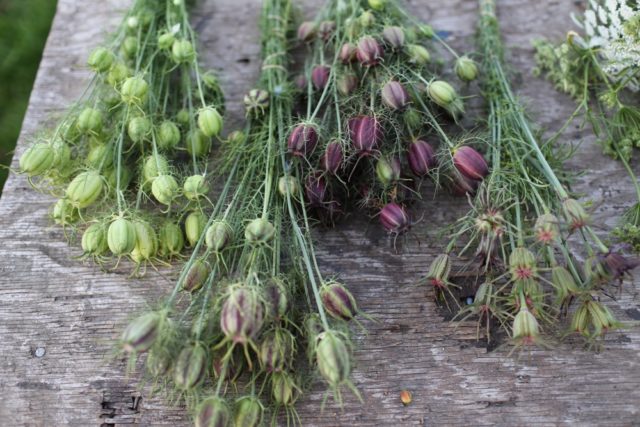 Many other Materials can be dried. You may want to experiment with Lunaria, Love-in-a crap (pictured above), hydrangeas and ornamental grease.
When we with the dry Bought, we hung the harvested bouquets Just head over in the back part of the garage, where it gets very hot and dry in summer. Normally it is recommended that flower to dry on a warm, dark place, but for Happiness dried ours so fast that their color in sunlight Do not bore.

after the Breaks were completely dried, we wrapped them into kraft paper and stored them in Rubbermaid plastic containers until we could use them.

Two big boxes with dried treats I gave my girlfriend Nina, the sweetest little ones dried wreaths Making you sold on craft fairs. I divided the rest under the team, and the ladies had a lot of fun crafting with them.
My Floral friend Flora It was it that me on the Driedflumen train Jump up.

Flora lives on one of the most remote San Juan Islands and travels between the farm of her family and goals around the world back and forth flower to arrange. It manufactures the most breathtaking Artworks made of dried flowers On, that she starts on the farm of her family and sent around the holidays nationwide.

In the picture you see some indispensable Dry flower rings. Are not you amazing?
I am determined to learn Flora's secrets. She has indicated to give a few workshops, and I have to sign me first.
If you Want to dry flowers, you should pay attention to some important things:

Flowers intended for drying, should be more open picked become fresh flowersBut they must not be too mature. I would suggest the To pick flowerswhen they are open about three quarters. If you are too mature, fall during the Drying process apart.
After the flowers were harvested, they should be all the foliage and the leaves Remove on the stalk as you Dry brown and become crispy.
Hang the Bouquet during the Drying necessarily head over, since the Flower head to be fixed in the position in which you dry was. If you have the Bouquet Hanging upside down, you get straight, useful stalks.
Carefully go with dried flowers To, because they are quite fragile and can break easily. If you do not want to use it immediately, you can wrap them in silk or kraft paper and keep them up to use.
Even if you just a few Bouquets for drying Cancel, I recommend you to try it once. You will be glad if you have them in the lean winter months at hand.
Pictures FloretFlowers
I would like to know, What you think about dried flowers. Dry flowers from your garden this seasonor hold it for cheesy and outdated? If you have one Fan of dried flowers I'd like to know which varieties you prefer to dry and what resources you would recommend beginners.

Please note: If you send a comment and it does not appear immediately, wait; We have a spam filter that approves most comments before publishing.

And if you find this information helpful, I would be glad if you would share them with your friends.
---